---
6 [a]For Christ, when we were yet of no strength, at his [b]time died for the (A)ungodly.
Read full chapter
Footnotes
Romans 5:6 A sure comfort in adversity, that our peace and quietness of conscience be not troubled: for he that so loved them that were of no strength, and while they were yet sinners, that he died for them, how can he neglect them being now sanctified and living in him?
Romans 5:6 In time fit and convenient, which the father hath appointed.
New International Version
6 You see, at just the right time,(A) when we were still powerless,(B) Christ died for the ungodly.(C)
Read full chapter
18 (A)[a]For Christ also hath once suffered for sins, [b]the just for the unjust, [c]that he might bring us to God, [d]and was put to death concerning the [e]flesh, but was quickened by the spirit.
Read full chapter
1599 Geneva Bible (GNV)
Geneva Bible, 1599 Edition. Published by Tolle Lege Press. All rights reserved. No part of this publication may be reproduced or transmitted in any form or by any means, electronic or mechanical, without written permission from the publisher, except in the case of brief quotations in articles, reviews, and broadcasts.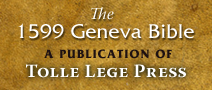 New International Version (NIV)
Holy Bible, New International Version®, NIV® Copyright ©1973, 1978, 1984, 2011 by Biblica, Inc.® Used by permission. All rights reserved worldwide.
NIV Reverse Interlinear Bible: English to Hebrew and English to Greek. Copyright © 2019 by Zondervan.