---
8 She has been given clean shining linen to wear." (The linen is the good deeds of God's people.)
9 (A)Then the angel said to me, "Write this: Happy are those who have been invited to the wedding feast of the Lamb." And the angel added, "These are the true words of God."
10 I fell down at his feet to worship him, but he said to me, "Don't do it! I am a servant together with you and with other believers, all those who hold to the truth that Jesus revealed. Worship God!"
For the truth that Jesus revealed is what inspires the prophets.
Read full chapter
New International Version
8 Fine linen,(A) bright and clean,
was given her to wear."
(Fine linen stands for the righteous acts(B) of God's holy people.)
9 Then the angel said to me,(C) "Write this:(D) Blessed are those who are invited to the wedding supper of the Lamb!"(E) And he added, "These are the true words of God."(F)
10 At this I fell at his feet to worship him.(G) But he said to me, "Don't do that! I am a fellow servant with you and with your brothers and sisters who hold to the testimony of Jesus. Worship God!(H) For it is the Spirit of prophecy who bears testimony to Jesus."(I)
Read full chapter
Good News Translation (GNT)
Copyright © 1992 by American Bible Society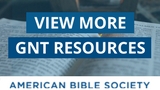 New International Version (NIV)
Holy Bible, New International Version®, NIV® Copyright ©1973, 1978, 1984, 2011 by Biblica, Inc.® Used by permission. All rights reserved worldwide.
NIV Reverse Interlinear Bible: English to Hebrew and English to Greek. Copyright © 2019 by Zondervan.