---
7 
Let them flow away like water that runs off;
When he aims his arrows, let them be as headless shafts.
8 
Let them be as a snail which melts away (secretes slime) as it goes along,
Like the miscarriage of a woman which never sees the sun.
9 
Before your cooking pots can feel the fire of thorns [burning under them as fuel],
He will sweep them away with a whirlwind, the green and the burning ones alike.
Read full chapter
New International Version
7 Let them vanish like water that flows away;(A)
when they draw the bow, let their arrows fall short.(B)
8 May they be like a slug that melts away as it moves along,(C)
like a stillborn child(D) that never sees the sun.
9 Before your pots can feel the heat of the thorns(E)—
whether they be green or dry—the wicked will be swept away.[a](F)
Read full chapter
Footnotes
Psalm 58:9 The meaning of the Hebrew for this verse is uncertain.
Amplified Bible (AMP)
Copyright © 2015 by The Lockman Foundation, La Habra, CA 90631. All rights reserved.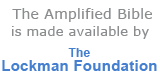 New International Version (NIV)
Holy Bible, New International Version®, NIV® Copyright ©1973, 1978, 1984, 2011 by Biblica, Inc.® Used by permission. All rights reserved worldwide.
NIV Reverse Interlinear Bible: English to Hebrew and English to Greek. Copyright © 2019 by Zondervan.