---
A Prayer for God to Punish the Wicked[a]
58 Do you rulers[b] ever give a just decision?
Do you judge everyone fairly?
2 No! You think only of the evil you can do,
and commit crimes of violence in the land.
3 Evildoers go wrong all their lives;
they tell lies from the day they are born.
Read full chapter
New International Version
Psalm 58[a]
For the director of music. To the tune of "Do Not Destroy." Of David. A miktam.[b]
1 Do you rulers indeed speak justly?(A)
Do you judge people with equity?
2 No, in your heart you devise injustice,(B)
and your hands mete out violence on the earth.(C)
3 Even from birth the wicked go astray;
from the womb they are wayward, spreading lies.
Read full chapter
Footnotes
Psalm 58:1 In Hebrew texts 58:1-11 is numbered 58:2-12.
Psalm 58:1 Title: Probably a literary or musical term
Good News Translation (GNT)
Copyright © 1992 by American Bible Society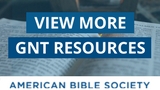 New International Version (NIV)
Holy Bible, New International Version®, NIV® Copyright ©1973, 1978, 1984, 2011 by Biblica, Inc.® Used by permission. All rights reserved worldwide.
NIV Reverse Interlinear Bible: English to Hebrew and English to Greek. Copyright © 2019 by Zondervan.