---
Amplified Bible, Classic Edition
7 God has promised in His holiness [regarding the establishment of David's dynasty]: I will rejoice, I will distribute [Canaan among My people], dividing Shechem and [the western region and allotting the eastern region which contains] the Valley of Succoth.
8 Gilead is Mine, Manasseh is Mine; Ephraim also is My stronghold and the defense of My head; Judah is My scepter and lawgiver.(A)
9 Moab is My washbasin; upon Edom [My slave] My shoe I cast [to be cleaned]; over Philistia I shout [in triumph].
Read full chapter
Amplified Bible, Classic Edition (AMPC)
Copyright © 1954, 1958, 1962, 1964, 1965, 1987 by The Lockman Foundation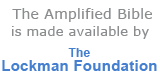 Bible Gateway Recommends
Amplified & NKJV Parallel Bible Bonded Leather, Black, Large Print
Retail: $69.95
Our Price: $39.99
Save: $29.96 (43%)
KJV and Amplified Parallel Bible, Large Print, Hardcover
Retail: $49.99
Our Price: $31.99
Save: $18.00 (36%)
Amplified Bible, Battlefield Of The Mind Bible, Imitation Leather, Blue
Retail: $79.99
Our Price: $53.99
Save: $26.00 (33%)
Amplified Study Bible--soft leather-look, purple (indexed)
Retail: $79.99
Our Price: $42.99
Save: $37.00 (46%)
Battlefield of the Mind New Testament--soft leather-look, arcadia blue
Retail: $24.99
Our Price: $17.49
Save: $7.50 (30%)
Amplified Thinline Holy Bible--bonded leather, black
Retail: $49.99
Our Price: $21.99
Save: $28.00 (56%)