---
Amplified Bible, Classic Edition
7 God has promised in His holiness [regarding the establishment of David's dynasty]: I will rejoice, I will distribute [Canaan among My people], dividing Shechem and [the western region and allotting the eastern region which contains] the Valley of Succoth.
8 Gilead is Mine, Manasseh is Mine; Ephraim also is My stronghold and the defense of My head; Judah is My scepter and lawgiver.(A)
9 Moab is My washbasin; upon Edom [My slave] My shoe I cast [to be cleaned]; over Philistia I shout [in triumph].
Read full chapter
New International Version
7 God has spoken(A) from his sanctuary:(B)
"In triumph I will parcel out Shechem(C)
and measure off the Valley of Sukkoth.(D)
8 Gilead is mine, Manasseh is mine;
Ephraim is my helmet,
Judah(E) is my scepter.
9 Moab(F) is my washbasin,
on Edom(G) I toss my sandal;
over Philistia(H) I shout in triumph."
Read full chapter
Amplified Bible, Classic Edition (AMPC)
Copyright © 1954, 1958, 1962, 1964, 1965, 1987 by The Lockman Foundation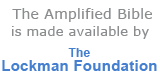 New International Version (NIV)
Holy Bible, New International Version®, NIV® Copyright ©1973, 1978, 1984, 2011 by Biblica, Inc.® Used by permission. All rights reserved worldwide.
NIV Reverse Interlinear Bible: English to Hebrew and English to Greek. Copyright © 2019 by Zondervan.