---
5 ¶ How goodly are thy tents, O Jacob, and thine habitations, O Israel!
6 As the valleys are they stretched forth, as gardens by the river's side, as the [a]aloe trees, which the Lord hath planted, as the cedars beside the waters.
7 The [b]water droppeth out of his bucket, and his seed shall be in many waters, and his King shall be higher than [c]Agag, and his kingdom shall be exalted.
Read full chapter
New International Version
5 "How beautiful are your tents,(A) Jacob,
your dwelling places, Israel!
6 "Like valleys they spread out,
like gardens beside a river,(B)
like aloes(C) planted by the Lord,
like cedars beside the waters.(D)
7 Water will flow from their buckets;
their seed will have abundant water.
Read full chapter
1599 Geneva Bible (GNV)
Geneva Bible, 1599 Edition. Published by Tolle Lege Press. All rights reserved. No part of this publication may be reproduced or transmitted in any form or by any means, electronic or mechanical, without written permission from the publisher, except in the case of brief quotations in articles, reviews, and broadcasts.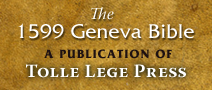 New International Version (NIV)
Holy Bible, New International Version®, NIV® Copyright ©1973, 1978, 1984, 2011 by Biblica, Inc.® Used by permission. All rights reserved worldwide.
NIV Reverse Interlinear Bible: English to Hebrew and English to Greek. Copyright © 2019 by Zondervan.