---
25 
"Will You cause a windblown leaf to tremble?
Will You pursue the chaff of the dry stubble?
26 
"For You write bitter things against me [in Your indictment]
And make me inherit and suffer for the iniquities of my youth.
27 
"You also put my feet in the stocks [as punishment]
And [critically] observe all my paths;
You set a circle and limit around the soles of my feet [which I must not overstep],
Read full chapter
New International Version
25 Will you torment(A) a windblown leaf?(B)
Will you chase(C) after dry chaff?(D)
26 For you write down bitter things against me
and make me reap the sins of my youth.(E)
27 You fasten my feet in shackles;(F)
you keep close watch on all my paths(G)
by putting marks on the soles of my feet.
Read full chapter
Amplified Bible (AMP)
Copyright © 2015 by The Lockman Foundation, La Habra, CA 90631. All rights reserved.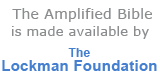 New International Version (NIV)
Holy Bible, New International Version®, NIV® Copyright ©1973, 1978, 1984, 2011 by Biblica, Inc.® Used by permission. All rights reserved worldwide.
NIV Reverse Interlinear Bible: English to Hebrew and English to Greek. Copyright © 2019 by Zondervan.