---
12 but your own great city will be humiliated and disgraced. Babylonia will be the least important nation of all; it will become a dry and waterless desert. 13 Because of my anger no one will live in Babylon; it will be left in ruins, and all who pass by will be shocked and amazed.
14 "Archers, line up for battle against Babylon and surround it. Shoot all your arrows at Babylon, because it has sinned against me, the Lord.
Read full chapter
New International Version
12 your mother will be greatly ashamed;
she who gave you birth will be disgraced.(A)
She will be the least of the nations—
a wilderness, a dry land, a desert.(B)
13 Because of the Lord's anger she will not be inhabited
but will be completely desolate.(C)
All who pass Babylon will be appalled;(D)
they will scoff(E) because of all her wounds.(F)
14 "Take up your positions around Babylon,
all you who draw the bow.(G)
Shoot at her! Spare no arrows,(H)
for she has sinned against the Lord.
Read full chapter
Good News Translation (GNT)
Copyright © 1992 by American Bible Society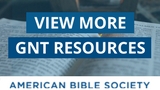 New International Version (NIV)
Holy Bible, New International Version®, NIV® Copyright ©1973, 1978, 1984, 2011 by Biblica, Inc.® Used by permission. All rights reserved worldwide.
NIV Reverse Interlinear Bible: English to Hebrew and English to Greek. Copyright © 2019 by Zondervan.