---
Contemporary English Version
13 With my own hand
I created the earth
and stretched out the sky.
They obey my every command.
The Lord Speaks to the Nations
14 Gather around me, all of you!
Listen to what I say.
Did any of your idols
predict this would happen?
Did they say that my friend[a]
would do
what I want done
to Babylonia?[b]
15 I was the one who chose him.
I have brought him this far,
and he will be successful.
Read full chapter
New International Version
13 My own hand laid the foundations of the earth,(A)
and my right hand spread out the heavens;(B)
when I summon them,
they all stand up together.(C)
14 "Come together,(D) all of you, and listen:
Which of the idols has foretold(E) these things?
The Lord's chosen ally(F)
will carry out his purpose(G) against Babylon;(H)
his arm will be against the Babylonians.[a]
15 I, even I, have spoken;
yes, I have called(I) him.
I will bring him,
and he will succeed(J) in his mission.
Read full chapter
Contemporary English Version (CEV)
Copyright © 1995 by American Bible Society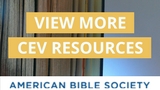 New International Version (NIV)
Holy Bible, New International Version®, NIV® Copyright ©1973, 1978, 1984, 2011 by Biblica, Inc.® Used by permission. All rights reserved worldwide.
NIV Reverse Interlinear Bible: English to Hebrew and English to Greek. Copyright © 2019 by Zondervan.