---
8 Ye heavens send the dew from above, and let the clouds drop down [a]righteousness: let the earth open, and let salvation and justice grow forth: let it bring them forth together: I the Lord have [b]created him.
Read full chapter
Footnotes
Isaiah 45:8 He comforteth the Jews, as if he would say, Though when ye look to the heavens and earth for succor, ye see nothing now but signs of God's wrath, yet will cause them to bring forth most certain tokens of your deliverance, and of the performance of my promise: which is meant by righteousness.
Isaiah 45:8 I have appointed Cyrus to this use and purpose.
New International Version
8 "You heavens above, rain(A) down my righteousness;(B)
let the clouds shower it down.
Let the earth open wide,
let salvation(C) spring up,
let righteousness flourish with it;
I, the Lord, have created it.
Read full chapter
1599 Geneva Bible (GNV)
Geneva Bible, 1599 Edition. Published by Tolle Lege Press. All rights reserved. No part of this publication may be reproduced or transmitted in any form or by any means, electronic or mechanical, without written permission from the publisher, except in the case of brief quotations in articles, reviews, and broadcasts.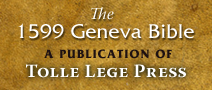 New International Version (NIV)
Holy Bible, New International Version®, NIV® Copyright ©1973, 1978, 1984, 2011 by Biblica, Inc.® Used by permission. All rights reserved worldwide.
NIV Reverse Interlinear Bible: English to Hebrew and English to Greek. Copyright © 2019 by Zondervan.