---
Amplified Bible, Classic Edition
21 And Isaac prayed much to the Lord for his wife because she was unable to bear children; and the Lord granted his prayer, and Rebekah his wife became pregnant.
22 [Two] children struggled together within her; and she said, If it is so [that the Lord has heard our prayer], why am I like this? And she went to inquire of the Lord.
23 The Lord said to her, [The founders of] two nations are in your womb, and the separation of two peoples has begun in your body; the one people shall be stronger than the other, and the elder shall serve the younger.
Read full chapter
Amplified Bible, Classic Edition (AMPC)
Copyright © 1954, 1958, 1962, 1964, 1965, 1987 by The Lockman Foundation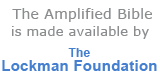 Bible Gateway Recommends
Amplified Topical Reference Bible, Bonded Leather, Black
Retail: $69.99
Our Price: $37.99
Save: $32.00 (46%)
Amplified & NKJV Parallel Bible Bonded Leather, Black, Large Print
Retail: $69.95
Our Price: $39.99
Save: $29.96 (43%)
Battlefield of the Mind Bible: Renew Your Mind Through the Power of God's Word, Imitation Leather, pink
Retail: $79.99
Our Price: $53.99
Save: $26.00 (33%)
Battlefield of the Mind New Testament--soft leather-look, arcadia blue
Retail: $24.99
Our Price: $17.49
Save: $7.50 (30%)
Battlefield of the Mind Bible: Renew Your Mind Through the Power of God's Word, Imitation Leather, brown
Retail: $79.99
Our Price: $53.99
Save: $26.00 (33%)
The Amplified Study Bible, eBook - eBook
Our Price: $14.99