---
2 Arise, (A)get thee to (B)Padan Aram to the house of Bethuel thy mother's father, and thence take thee a wife of the daughters of Laban thy mother's brother.
3 And God all [a]sufficient bless thee, and make thee to increase, and multiply thee, that thou mayest be a multitude of people,
4 And give thee the blessing of Abraham, even to thee and to thy seed with thee, that thou mayest inherit the land (wherein thou art a [b]stranger,) which God gave unto Abraham.
Read full chapter
Footnotes
Genesis 28:3 Or, almighty.
Genesis 28:4 The godly fathers were put in mind continually, that they were but strangers in this world: to the intent they should lift up their eyes to the heavens where they should have a sure dwelling.
New International Version
2 Go at once to Paddan Aram,[a](A) to the house of your mother's father Bethuel.(B) Take a wife for yourself there, from among the daughters of Laban, your mother's brother.(C) 3 May God Almighty[b](D) bless(E) you and make you fruitful(F) and increase your numbers(G) until you become a community of peoples. 4 May he give you and your descendants the blessing given to Abraham,(H) so that you may take possession of the land(I) where you now reside as a foreigner,(J) the land God gave to Abraham."
Read full chapter
1599 Geneva Bible (GNV)
Geneva Bible, 1599 Edition. Published by Tolle Lege Press. All rights reserved. No part of this publication may be reproduced or transmitted in any form or by any means, electronic or mechanical, without written permission from the publisher, except in the case of brief quotations in articles, reviews, and broadcasts.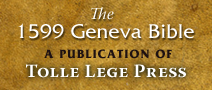 New International Version (NIV)
Copyright © 1973, 1978, 1984, 2011 by Biblica
NIV Reverse Interlinear Bible: English to Hebrew and English to Greek. Copyright © 2019 by Zondervan.