---
Contemporary English Version
9 The only things kept in the chest were the two flat stones Moses had put there when the Lord made his agreement with the people of Israel at Mount Sinai,[a] after bringing them out of Egypt.
10 Suddenly a cloud filled the temple as the priests were leaving the most holy place. 11 The Lord's glory was in the cloud, and the light from it was so bright that the priests could not stay inside to do their work.
Read full chapter
Footnotes
8.9 Sinai: Hebrew "Horeb."
New International Version
9 There was nothing in the ark except the two stone tablets(A) that Moses had placed in it at Horeb, where the Lord made a covenant with the Israelites after they came out of Egypt.
10 When the priests withdrew from the Holy Place, the cloud(B) filled the temple of the Lord. 11 And the priests could not perform their service(C) because of the cloud, for the glory(D) of the Lord filled his temple.
Read full chapter
Contemporary English Version (CEV)
Copyright © 1995 by American Bible Society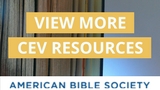 New International Version (NIV)
Holy Bible, New International Version®, NIV® Copyright ©1973, 1978, 1984, 2011 by Biblica, Inc.® Used by permission. All rights reserved worldwide.
NIV Reverse Interlinear Bible: English to Hebrew and English to Greek. Copyright © 2019 by Zondervan.