---
12-13 (A)After all, it is none of my business to judge outsiders. God will judge them. But should you not judge the members of your own fellowship? As the scripture says, "Remove the evil person from your group."
Read full chapter
New International Version
12 What business is it of mine to judge those outside(A) the church? Are you not to judge those inside?(B) 13 God will judge those outside. "Expel the wicked person from among you."[a](C)
Read full chapter
12 For what have I to do to judge them also that are without? do not ye judge them that are within?
13 But them that are without God judgeth. Therefore put away from among yourselves that wicked person.
Read full chapter
Good News Translation (GNT)
Copyright © 1992 by American Bible Society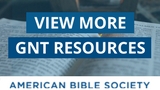 New International Version (NIV)
Holy Bible, New International Version®, NIV® Copyright ©1973, 1978, 1984, 2011 by Biblica, Inc.® Used by permission. All rights reserved worldwide.
NIV Reverse Interlinear Bible: English to Hebrew and English to Greek. Copyright © 2019 by Zondervan.