---
Contemporary English Version
2-3 It happened after the people of Bethel had sent Sharezer with Regem-Melech and his men to ask the priests in the Lord's temple and the prophets to pray for them. So they prayed, "Should we mourn and go without eating during the fifth month,[a] as we have done for many years?"
4-5 It was then that the Lord All-Powerful told me to say to everyone in the country, including the priests:
For seventy years you have gone without eating during the fifth and seventh months of the year. But did you really do it for me?
Read full chapter
Footnotes
7.2,3 fifth month: Ab, the fifth month of the Hebrew calendar, from about mid-July to mid-August. The temple was destroyed by the Babylonians in the year 587 or 586 B.C.
New International Version
2 The people of Bethel had sent Sharezer and Regem-Melek, together with their men, to entreat(A) the Lord(B) 3 by asking the priests of the house of the Lord Almighty and the prophets, "Should I mourn(C) and fast in the fifth(D) month, as I have done for so many years?"
4 Then the word of the Lord Almighty came to me:
Read full chapter
Contemporary English Version (CEV)
Copyright © 1995 by American Bible Society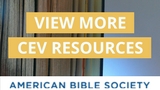 New International Version (NIV)
Holy Bible, New International Version®, NIV® Copyright ©1973, 1978, 1984, 2011 by Biblica, Inc.® Used by permission. All rights reserved worldwide.
NIV Reverse Interlinear Bible: English to Hebrew and English to Greek. Copyright © 2019 by Zondervan.