---
The Shepherd Is Killed
7 "Sword, hit the shepherd.
Attack the man who is my friend,"
says the Lord All-Powerful.
"Kill the shepherd,
and the sheep will scatter,
and I will punish the little ones."
8 The Lord says, "Two-thirds of the people
through all the land will die. They will be gone,
and one-third will be left.
9 The third that is left I will test with fire,
purifying them like silver,
testing them like gold.
Then they will call on me,
and I will answer them.
I will say, 'You are my people,'
and they will say, 'The Lord is our God.'"
Read full chapter
New Century Version (NCV)
The Holy Bible, New Century Version®. Copyright © 2005 by Thomas Nelson, Inc.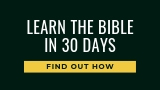 Bible Gateway Recommends
The Everyday Bible - eBook
Our Price: $5.49
Biblia Económica NBD, Enc. Rústica (NBD Economy Bible, Softcover)
Retail: $6.99
Our Price: $2.99
Save: $4.00 (57%)
The Contemporary Parallel New Testament with KJV, NIV, NKJV, NASB, and more!
Retail: $49.95
Our Price: $34.99
Save: $14.96 (30%)
NCV Revolve Bible, Leathersoft, raspberry
Retail: $44.99
Our Price: $19.99
Save: $25.00 (56%)
NCV Revolve Bible, Leathersoft, chocolate/raspberry/biscuit - Slightly Imperfect
Retail: $44.99
Our Price: $15.29
Save: $29.70 (66%)
NCV Grace for the Moment Daily Bible
Retail: $19.99
Our Price: $13.99
Save: $6.00 (30%)