---
Amplified Bible, Classic Edition
4 Draw me! We will run after you! The king brings me into his apartments! We will be glad and rejoice in you! We will recall [when we were favored with] your love, more fragrant than wine. The upright [are not offended at your choice, but sincerely] love you.
5 I am so black; but [you are] lovely and pleasant [the ladies assured her]. O you daughters of Jerusalem, [I am as dark] as the tents of [the Bedouin tribe] Kedar, like the [beautiful] curtains of Solomon!
6 [Please] do not look at me, [she said, for] I am swarthy. [I have worked out] in the sun and it has left its mark upon me. My stepbrothers were angry with me, and they made me keeper of the vineyards; but my own vineyard [my complexion] I have not kept.
Read full chapter
Amplified Bible, Classic Edition (AMPC)
Copyright © 1954, 1958, 1962, 1964, 1965, 1987 by The Lockman Foundation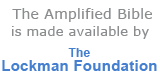 Bible Gateway Recommends
Classic Comparative Side-by-Side Bible (NIV, KJV, NASB, Amplified)
Retail: $54.99
Our Price: $35.99
Save: $19.00 (35%)
Everyday Life Bible: The Power Of God's Word For Everyday Living, Imitation Leather, pink
Retail: $79.99
Our Price: $46.49
Save: $33.50 (42%)
Amplified Holy Bible, softcover
Retail: $19.99
Our Price: $13.99
Save: $6.00 (30%)
Battlefield of the Mind New Testament--soft leather-look, coral
Retail: $24.99
Our Price: $17.49
Save: $7.50 (30%)
Amplified Bible, Battlefield Of The Mind Bible, Imitation Leather, Blue
Retail: $79.99
Our Price: $53.99
Save: $26.00 (33%)