---
10 The same shall drink of the wine of the wrath of God, yea, of the pure wine, which is poured into the cup of his wrath, and he shall be tormented in fire and brimstone before the holy Angels, and before the Lamb.
11 And the smoke of their torment shall ascend evermore: and they shall have no rest day nor night, which worship the beast and his name.
12 [a]Here is the patience of Saints: here are they that keep the commandments of God, and the faith of Jesus.
Read full chapter
Footnotes
Revelation 14:12 The patience, sanctification and justification by faith: the consequence whereof are rest, felicity, and glory eternal, in the heavenly fellowship of God and his Angels.
New International Version
10 they, too, will drink the wine of God's fury,(A) which has been poured full strength into the cup of his wrath.(B) They will be tormented with burning sulfur(C) in the presence of the holy angels and of the Lamb. 11 And the smoke of their torment will rise for ever and ever.(D) There will be no rest day or night(E) for those who worship the beast and its image,(F) or for anyone who receives the mark of its name."(G) 12 This calls for patient endurance(H) on the part of the people of God(I) who keep his commands(J) and remain faithful to Jesus.
Read full chapter
1599 Geneva Bible (GNV)
Geneva Bible, 1599 Edition. Published by Tolle Lege Press. All rights reserved. No part of this publication may be reproduced or transmitted in any form or by any means, electronic or mechanical, without written permission from the publisher, except in the case of brief quotations in articles, reviews, and broadcasts.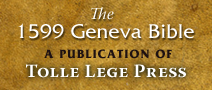 New International Version (NIV)
Holy Bible, New International Version®, NIV® Copyright ©1973, 1978, 1984, 2011 by Biblica, Inc.® Used by permission. All rights reserved worldwide.
NIV Reverse Interlinear Bible: English to Hebrew and English to Greek. Copyright © 2019 by Zondervan.