---
3 [a]Blessed (happy, prosperous, to be admired) is he who reads and those who hear the words of the prophecy, and who keep the things which are written in it [heeding them and taking them to heart]; for the time [of fulfillment] is near.
Message to the Seven Churches
4 [b]John, to the seven churches that are in [the province of] [c]Asia: [d]Grace [be granted] to you and peace [inner calm and spiritual well-being], from Him Who is [existing forever] and Who was [continually existing in the past] and Who is to come, and from [e]the seven Spirits that are before His throne,(A) 5 and from Jesus Christ, the [f]faithful and trustworthy Witness, the [g]Firstborn of the dead, and the Ruler of the kings of the earth. To Him who [always] loves us and who [has once for all] [h]freed us [or washed us] from our sins by His own blood (His sacrificial death)—(B)
Read full chapter
New International Version
3 Blessed is the one who reads aloud the words of this prophecy, and blessed are those who hear it and take to heart what is written in it,(A) because the time is near.(B)
Greetings and Doxology
4 John,
To the seven churches(C) in the province of Asia:
Grace and peace to you(D) from him who is, and who was, and who is to come,(E) and from the seven spirits[a](F) before his throne, 5 and from Jesus Christ, who is the faithful witness,(G) the firstborn from the dead,(H) and the ruler of the kings of the earth.(I)
To him who loves us(J) and has freed us from our sins by his blood,(K)
Read full chapter
Amplified Bible (AMP)
Copyright © 2015 by The Lockman Foundation, La Habra, CA 90631. All rights reserved.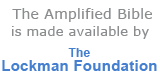 New International Version (NIV)
Holy Bible, New International Version®, NIV® Copyright ©1973, 1978, 1984, 2011 by Biblica, Inc.® Used by permission. All rights reserved worldwide.
NIV Reverse Interlinear Bible: English to Hebrew and English to Greek. Copyright © 2019 by Zondervan.