---
Amplified Bible, Classic Edition
4 O Lord God of hosts, how long will You be angry with Your people's prayers?
5 You have fed them with the bread of tears, and You have given them tears to drink in large measure.
6 You make us a strife and scorn to our neighbors, and our enemies laugh among themselves.
Read full chapter
Amplified Bible, Classic Edition (AMPC)
Copyright © 1954, 1958, 1962, 1964, 1965, 1987 by The Lockman Foundation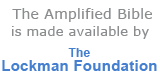 Bible Gateway Recommends
Amplified Reading Bible, Imitation Leather, Brown
Retail: $49.99
Our Price: $29.99
Save: $20.00 (40%)
Everyday Life Bible: The Power Of God's Word For Everyday Living, Imitation Leather, pink
Retail: $79.99
Our Price: $46.49
Save: $33.50 (42%)
The Amplified Study Bible, eBook - eBook
Our Price: $14.99
Amplified Study Bible, Large Print, Imitation Leather, Brown
Retail: $69.99
Our Price: $41.99
Save: $28.00 (40%)
Battlefield of the Mind Bible: Renew Your Mind Through the Power of God's Word
Retail: $29.99
Our Price: $19.99
Save: $10.00 (33%)
La Biblia de la Vida Diaria NVI, Enc. Rústica (NVI Everyday Life Bible, Softcover)
Retail: $24.99
Our Price: $17.49
Save: $7.50 (30%)