---
28 And he made it fall in the midst of their camp, even round about their habitations.
29 So they did eat, and were well filled: for he gave them their desire.
30 They were not turned from their [a]lusts, but the meat was yet in their mouths,
Read full chapter
Footnotes
Psalm 78:30 Such is the nature of concupiscence, that the more it hath, the more it lusteth.
New International Version
28 He made them come down inside their camp,
all around their tents.
29 They ate till they were gorged—(A)
he had given them what they craved.
30 But before they turned from what they craved,
even while the food was still in their mouths,(B)
Read full chapter
1599 Geneva Bible (GNV)
Geneva Bible, 1599 Edition. Published by Tolle Lege Press. All rights reserved. No part of this publication may be reproduced or transmitted in any form or by any means, electronic or mechanical, without written permission from the publisher, except in the case of brief quotations in articles, reviews, and broadcasts.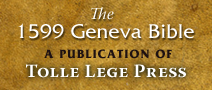 New International Version (NIV)
Copyright © 1973, 1978, 1984, 2011 by Biblica
NIV Reverse Interlinear Bible: English to Hebrew and English to Greek. Copyright © 2019 by Zondervan.