---
Amplified Bible, Classic Edition
3 Be to me a rock of refuge in which to dwell, and a sheltering stronghold to which I may continually resort, which You have appointed to save me, for You are my Rock and my Fortress.
4 Rescue me, O my God, out of the hand of the wicked, out of the grasp of the unrighteous and ruthless man.
5 For You are my hope; O Lord God, You are my trust from my youth and the source of my confidence.
Read full chapter
Amplified Bible, Classic Edition (AMPC)
Copyright © 1954, 1958, 1962, 1964, 1965, 1987 by The Lockman Foundation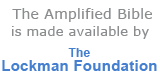 Bible Gateway Recommends
Amplified Reading Bible, Hardcover
Retail: $34.99
Our Price: $21.99
Save: $13.00 (37%)
Classic Comparative Side-by-Side Bible (NIV, KJV, NASB, Amplified) , Bonded Leather
Retail: $89.99
Our Price: $57.99
Save: $32.00 (36%)
Amplified Compact Holy Bible, hardcover
Retail: $14.99
Our Price: $9.49
Save: $5.50 (37%)
Everyday Life Bible: The Power of God's Word for Everyday Living--soft leather-look, teal
Retail: $79.99
Our Price: $54.99
Save: $25.00 (31%)
Everyday Life Bible: The Power Of God's Word For Everyday Living, Imitation Leather, pink
Retail: $79.99
Our Price: $46.49
Save: $33.50 (42%)
KJV and Amplified Parallel Bible, Large Print, Hardcover
Retail: $49.99
Our Price: $28.99
Save: $21.00 (42%)