---
Amplified Bible, Classic Edition
5 Your mercy and loving-kindness, O Lord, extend to the skies, and Your faithfulness to the clouds.
6 Your righteousness is like the mountains of God, Your judgments are like the great deep. O Lord, You preserve man and beast.
7 How precious is Your steadfast love, O God! The children of men take refuge and put their trust under the shadow of Your wings.
Read full chapter
Amplified Bible, Classic Edition (AMPC)
Copyright © 1954, 1958, 1962, 1964, 1965, 1987 by The Lockman Foundation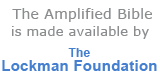 Bible Gateway Recommends
NKJV Amplified Parallel Bible Hardcover Large Print
Retail: $39.95
Our Price: $23.99
Save: $15.96 (40%)
Battlefield of the Mind Psalms and Proverbs - eBook
Our Price: $2.99
Amplified Study Bible, Large Print, Imitation Leather, Brown
Retail: $69.99
Our Price: $44.49
Save: $25.50 (36%)
Everyday Life Bible: The Power Of God's Word For Everyday Living, Imitation Leather, pewter
Retail: $79.99
Our Price: $44.99
Save: $35.00 (44%)
Amplified Reading Bible, Imitation Leather, Brown
Retail: $49.99
Our Price: $31.99
Save: $18.00 (36%)
KJV and Amplified Parallel Bible, Large Print, Bonded Leather, Black
Retail: $79.99
Our Price: $46.49
Save: $33.50 (42%)