---
Amplified Bible, Classic Edition
8 Ask of Me, and I will give You the nations as Your inheritance, and the uttermost parts of the earth as Your possession.
9 You shall break them with a rod of iron; You shall dash them in pieces like potters' ware.(A)
10 Now therefore, O you kings, act wisely; be instructed and warned, O you rulers of the earth.
Read full chapter
Amplified Bible, Classic Edition (AMPC)
Copyright © 1954, 1958, 1962, 1964, 1965, 1987 by The Lockman Foundation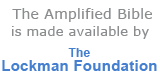 Bible Gateway Recommends
The New Everyday Life Bible: The Power of God's Word For Everyday Living
Retail: $39.99
Our Price: $27.99
Save: $12.00 (30%)
Amplified Outreach Bible, Paperback, Case of 24
Retail: $167.76
Our Price: $79.49
Save: $88.27 (53%)
Amplified Holy Bible--bonded leather, burgundy (indexed)
Retail: $59.99
Our Price: $38.99
Save: $21.00 (35%)
Battlefield of the Mind Bible: Renew Your Mind Through the Power of God's Word, Imitation Leather, brown
Retail: $79.99
Our Price: $53.99
Save: $26.00 (33%)
KJV and Amplified Parallel Bible, Large Print, Bonded Leather, Black
Retail: $79.99
Our Price: $53.99
Save: $26.00 (33%)
Amplified Study Bible, Large Print, Imitation Leather, Brown
Retail: $69.99
Our Price: $43.49
Save: $26.50 (38%)