---
Amplified Bible, Classic Edition
6 Remember, O Lord, Your tender mercy and loving-kindness; for they have been ever from of old.
7 Remember not the sins (the lapses and frailties) of my youth or my transgressions; according to Your mercy and steadfast love remember me, for Your goodness' sake, O Lord.
8 Good and upright is the Lord; therefore will He instruct sinners in [His] way.
Read full chapter
Amplified Bible, Classic Edition (AMPC)
Copyright © 1954, 1958, 1962, 1964, 1965, 1987 by The Lockman Foundation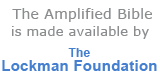 Bible Gateway Recommends
Amplified Bible, Battlefield of the Mind: Psalms and Proverbs Imitation Leather
Retail: $19.00
Our Price: $11.49
Save: $7.51 (40%)
Battlefield of the Mind Bible: Renew Your Mind Through the Power of God's Word, Imitation Leather, brown
Retail: $79.99
Our Price: $53.99
Save: $26.00 (33%)
NKJV Amplified Parallel Large-Print Bible Flexisoft, Blue/Brown
Retail: $79.95
Our Price: $46.99
Save: $32.96 (41%)
Amplified Study Bible--soft leather-look, purple
Retail: $69.99
Our Price: $35.99
Save: $34.00 (49%)
Amplified Study Bible, Large Print, Imitation Leather, Brown
Retail: $69.99
Our Price: $43.49
Save: $26.50 (38%)
KJV and Amplified Parallel Bible, Large Print, Leathersoft, Camel/rich red
Retail: $79.99
Our Price: $49.99
Save: $30.00 (38%)