---
Amplified Bible, Classic Edition
8 There went up smoke from His nostrils; and lightning out of His mouth devoured; coals were kindled by it.
9 He bowed the heavens also and came down; and thick darkness was under His feet.
10 And He rode upon a cherub [a storm] and flew [swiftly]; yes, He sped on with the wings of the wind.
Read full chapter
Amplified Bible, Classic Edition (AMPC)
Copyright © 1954, 1958, 1962, 1964, 1965, 1987 by The Lockman Foundation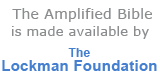 Bible Gateway Recommends
Battlefield of the Mind New Testament--soft leather-look, coral
Retail: $24.99
Our Price: $17.49
Save: $7.50 (30%)
KJV and Amplified Parallel Bible, Large Print, Hardcover
Retail: $49.99
Our Price: $27.49
Save: $22.50 (45%)
Everyday Life Bible: The Power Of God's Word For Everyday Living, Imitation Leather, pink
Retail: $79.99
Our Price: $46.49
Save: $33.50 (42%)
NIV and Amplified Side-by-Side Bible, Black
Retail: $69.99
Our Price: $52.99
Save: $17.00 (24%)
Everyday Life Bible: The Power Of God's Word For Everyday Living, Imitation Leather, pewter
Retail: $79.99
Our Price: $53.99
Save: $26.00 (33%)
Amplified Bible, Battlefield Of The Mind Bible, Imitation Leather, Blue
Retail: $79.99
Our Price: $45.99
Save: $34.00 (43%)