---
Amplified Bible, Classic Edition
Psalm 13
To the Chief Musician. A Psalm of David.
1 How long will You forget me, O Lord? Forever? How long will You hide Your face from me?
2 How long must I lay up cares within me and have sorrow in my heart day after day? How long shall my enemy exalt himself over me?
Read full chapter
Amplified Bible, Classic Edition (AMPC)
Copyright © 1954, 1958, 1962, 1964, 1965, 1987 by The Lockman Foundation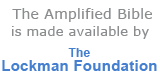 Bible Gateway Recommends
KJV and Amplified Parallel Bible, Large Print, Bonded Leather, Black
Retail: $79.99
Our Price: $52.99
Save: $27.00 (34%)
Classic Comparative Side-by-Side Bible (NIV, KJV, NASB, Amplified)
Retail: $54.99
Our Price: $35.99
Save: $19.00 (35%)
Amplified Study Bible--soft leather-look, purple
Retail: $69.99
Our Price: $35.99
Save: $34.00 (49%)
Amplified Thinline Holy Bible--bonded leather, black (indexed)
Retail: $59.99
Our Price: $36.99
Save: $23.00 (38%)
Amplified Study Bible, Hardcover
Retail: $44.99
Our Price: $28.99
Save: $16.00 (36%)
Battlefield of the Mind New Testament--soft leather-look, arcadia blue
Retail: $24.99
Our Price: $17.49
Save: $7.50 (30%)