---
Amplified Bible, Classic Edition
13 He winks with his eyes, he speaks by shuffling or tapping with his feet, he makes signs [to mislead and deceive] and teaches with his fingers.
14 Willful and contrary in his heart, he devises trouble, vexation, and evil continually; he lets loose discord and sows it.
15 Therefore upon him shall the crushing weight of calamity come suddenly; suddenly shall he be broken, and that without remedy.
Read full chapter
Amplified Bible, Classic Edition (AMPC)
Copyright © 1954, 1958, 1962, 1964, 1965, 1987 by The Lockman Foundation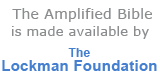 Bible Gateway Recommends
Battlefield of the Mind New Testament--soft leather-look, arcadia blue
Retail: $24.99
Our Price: $17.49
Save: $7.50 (30%)
Battlefield of the Mind Bible, Amplified Version - Hardcover
Retail: $49.99
Our Price: $27.99
Save: $22.00 (44%)
KJV and Amplified Parallel Bible, Large Print, Leathersoft, Camel/rich red
Retail: $79.99
Our Price: $50.99
Save: $29.00 (36%)
Amplified Outreach Bible, Paperback
Retail: $6.99
Our Price: $4.99
Save: $2.00 (29%)
La Biblia de la Vida Diaria NVI, Enc. Rústica (NVI Everyday Life Bible, Softcover)
Retail: $24.99
Our Price: $17.49
Save: $7.50 (30%)
Everyday Life Bible: The Power Of God's Word For Everyday Living, Imitation Leather, pink
Retail: $79.99
Our Price: $46.49
Save: $33.50 (42%)