---
14 all the while planning evil in their perverted minds, stirring up trouble everywhere. 15 Because of this, disaster will strike them without warning, and they will be fatally wounded.
16-19 There are seven things that the Lord hates and cannot tolerate:
A proud look,
a lying tongue,
hands that kill innocent people,
a mind that thinks up wicked plans,
feet that hurry off to do evil,
a witness who tells one lie after another,
and someone who stirs up trouble among friends.
Read full chapter
New International Version
14 Frowardness is in his heart, he deviseth mischief continually; he soweth discord.
15 Therefore shall his calamity come suddenly; suddenly shall he be broken without remedy.
16 These six things doth the Lord hate: yea, seven are an abomination unto him:
Read full chapter
Good News Translation (GNT)
Copyright © 1992 by American Bible Society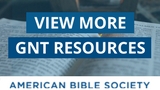 New International Version (NIV)
Holy Bible, New International Version®, NIV® Copyright ©1973, 1978, 1984, 2011 by Biblica, Inc.® Used by permission. All rights reserved worldwide.
NIV Reverse Interlinear Bible: English to Hebrew and English to Greek. Copyright © 2019 by Zondervan.