---
Amplified Bible, Classic Edition
23 I hope therefore to send him promptly, just as soon as I know how my case is going to turn out.
24 But [really] I am confident and fully trusting in the Lord that shortly I myself shall come to you also.
25 However, I thought it necessary to send Epaphroditus [back] to you. [He has been] my brother and companion in labor and my fellow soldier, as well as [having come as] your special messenger (apostle) and minister to my need.
Read full chapter
Amplified Bible, Classic Edition (AMPC)
Copyright © 1954, 1958, 1962, 1964, 1965, 1987 by The Lockman Foundation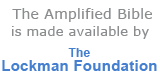 Bible Gateway Recommends
The Everyday Life Bible, Bonded Leather Bold Pink with Espresso Inset - Imperfectly Imprinted Bibles
Retail: $65.00
Our Price: $30.79
Save: $34.21 (53%)
Amplified Topical Reference Bible, Bonded Leather, Black
Retail: $69.99
Our Price: $37.99
Save: $32.00 (46%)
Amplified & NKJV Parallel Bible Bonded Leather, Black, Large Print - Imperfectly Imprinted Bibles
Retail: $69.95
Our Price: $31.99
Save: $37.96 (54%)
Amplified Compact Holy Bible--soft leather-look, camel/burgundy
Retail: $34.99
Our Price: $22.99
Save: $12.00 (34%)
KJV and Amplified Parallel Bible, Large Print, Bonded Leather, Black
Retail: $79.99
Our Price: $51.99
Save: $28.00 (35%)
Amplified Thinline Holy Bible--bonded leather, black (indexed)
Retail: $59.99
Our Price: $38.99
Save: $21.00 (35%)