---
Amplified Bible, Classic Edition
23 I hope therefore to send him promptly, just as soon as I know how my case is going to turn out.
24 But [really] I am confident and fully trusting in the Lord that shortly I myself shall come to you also.
25 However, I thought it necessary to send Epaphroditus [back] to you. [He has been] my brother and companion in labor and my fellow soldier, as well as [having come as] your special messenger (apostle) and minister to my need.
Read full chapter
New International Version
23 I hope, therefore, to send him as soon as I see how things go with me.(A) 24 And I am confident(B) in the Lord that I myself will come soon.
25 But I think it is necessary to send back to you Epaphroditus, my brother, co-worker(C) and fellow soldier,(D) who is also your messenger, whom you sent to take care of my needs.(E)
Read full chapter
Amplified Bible, Classic Edition (AMPC)
Copyright © 1954, 1958, 1962, 1964, 1965, 1987 by The Lockman Foundation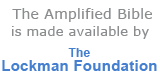 New International Version (NIV)
Copyright © 1973, 1978, 1984, 2011 by Biblica
NIV Reverse Interlinear Bible: English to Hebrew and English to Greek. Copyright © 2019 by Zondervan.