---
Amplified Bible, Classic Edition
3 So Israel joined himself to [the god] Baal of Peor. And the anger of the Lord was kindled against Israel.
4 And the Lord said to Moses, Take all the leaders or chiefs of the people, and hang them before the Lord in the sun [after killing them], that the fierce anger of the Lord may turn away from Israel.
5 And Moses said to the judges of Israel, Each one of you slay his men who joined themselves to Baal of Peor.
Read full chapter
Amplified Bible, Classic Edition (AMPC)
Copyright © 1954, 1958, 1962, 1964, 1965, 1987 by The Lockman Foundation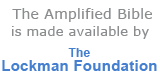 Bible Gateway Recommends
KJV and Amplified Parallel Bible, Large Print, Hardcover
Retail: $49.99
Our Price: $29.49
Save: $20.50 (41%)
Amplified Study Bible, Large Print, Imitation Leather, Brown
Retail: $69.99
Our Price: $45.49
Save: $24.50 (35%)
Amplified Reading Bible, Hardcover
Retail: $34.99
Our Price: $20.99
Save: $14.00 (40%)
Amplified Bible, Battlefield of the Mind: Psalms and Proverbs Imitation Leather
Retail: $19.00
Our Price: $11.49
Save: $7.51 (40%)
La Biblia de la Vida Diaria NVI, Enc. Rústica (NVI Everyday Life Bible, Softcover) - Slightly Imperfect
Retail: $24.99
Our Price: $13.99
Save: $11.00 (44%)
Battlefield of the Mind Bible, Amplified Version - Hardcover
Retail: $49.99
Our Price: $27.99
Save: $22.00 (44%)