---
Amplified Bible, Classic Edition
12 And forgive us our debts, as we also have forgiven ([a]left, remitted, and let go of the debts, and have [b]given up resentment against) our debtors.
13 And lead (bring) us not into temptation, but deliver us from the evil one. For Yours is the kingdom and the power and the glory forever. Amen.
14 For if you forgive people their trespasses [their [c]reckless and willful sins, [d]leaving them, letting them go, and [e]giving up resentment], your heavenly Father will also forgive you.
Read full chapter
Amplified Bible, Classic Edition (AMPC)
Copyright © 1954, 1958, 1962, 1964, 1965, 1987 by The Lockman Foundation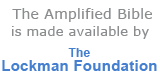 Bible Gateway Recommends
Amplified Outreach Bible, Paperback, Case of 24
Retail: $167.76
Our Price: $79.49
Save: $88.27 (53%)
La Biblia de la Vida Diaria, Piel Fabricada (Everyday Life Bible, Bonded Leather)
Retail: $59.99
Our Price: $41.99
Save: $18.00 (30%)
Amplified Study Bible, Hardcover
Retail: $44.99
Our Price: $25.49
Save: $19.50 (43%)
Everyday Life Bible: The Power of God's Word for Everyday Living--soft leather-look, teal
Retail: $79.99
Our Price: $54.99
Save: $25.00 (31%)
Everyday Life Bible: The Power Of God's Word For Everyday Living, Imitation Leather, pink
Retail: $79.99
Our Price: $46.49
Save: $33.50 (42%)
Everyday Life Bible: The Power Of God's Word For Everyday Living, Imitation Leather, pewter
Retail: $79.99
Our Price: $53.99
Save: $26.00 (33%)