---
Amplified Bible, Classic Edition
9 And do not presume to say to yourselves, We have Abraham for our forefather; for I tell you, God is able to raise up descendants for Abraham from these stones!
10 And already the ax is lying at the root of the trees; every tree therefore that does not bear good fruit is cut down and thrown into the fire.
11 I indeed baptize you [a]in (with) water [b]because of repentance [that is, because of your [c]changing your minds for the better, heartily amending your ways, with abhorrence of your past sins]. But He Who is coming after me is mightier than I, Whose sandals I am not worthy or fit to take off or carry; He will baptize you with the Holy Spirit and with fire.
Read full chapter
Footnotes
Matthew 3:11 En, the preposition used here, is translated both "in" and "with" in the Greek lexicons and concordances generally. The King James Version (the Authorized Version) gives preference to "with," putting "in" in the margin; the American Standard Version gives preference to "in," putting "with" in the margin. Many modern versions choose one or the other about equally.
Matthew 3:11 Charles B. Williams, The New Testament: A Translation.
Matthew 3:11 Joseph Thayer, A Greek-English Lexicon.
Amplified Bible, Classic Edition (AMPC)
Copyright © 1954, 1958, 1962, 1964, 1965, 1987 by The Lockman Foundation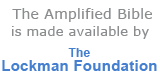 Bible Gateway Recommends
KJV and Amplified Side-by-Side Bible, Bonded Leather, Black, Large Print - Slightly Imperfect
Retail: $69.99
Our Price: $40.79
Save: $29.20 (42%)
Amplified Outreach Bible, Paperback, Case of 24
Retail: $167.76
Our Price: $79.49
Save: $88.27 (53%)
Classic Comparative Side-by-Side Bible (NIV, KJV, NASB, Amplified) , Bonded Leather
Retail: $89.99
Our Price: $57.99
Save: $32.00 (36%)
New Everyday Life Bible: The Power Of God's Word For Everyday Living - Slightly Imperfect
Retail: $39.99
Our Price: $23.79
Save: $16.20 (41%)
KJV and Amplified Parallel Bible, Large Print, Leathersoft, Camel/rich red
Retail: $79.99
Our Price: $46.79
Save: $33.20 (42%)
Battlefield of the Mind New Testament--soft leather-look, arcadia blue
Retail: $24.99
Our Price: $17.49
Save: $7.50 (30%)