---
Amplified Bible, Classic Edition
47 And if your eye causes you to stumble and sin, pluck it out! It is more profitable and wholesome for you to enter the kingdom of God with one eye than with two eyes to be thrown into hell (Gehenna),
48 Where their worm [[a]which preys on the inhabitants and is a symbol of the wounds inflicted on the man himself by his sins] does not die, and the fire is not put out.(A)
49 For everyone shall be salted with fire.
Read full chapter
Footnotes
Mark 9:48 Ezra Palmer Gould, cited by A.T. Robertson, Word Pictures and Henry Swete, The Gospel According to Saint Mark.
Amplified Bible, Classic Edition (AMPC)
Copyright © 1954, 1958, 1962, 1964, 1965, 1987 by The Lockman Foundation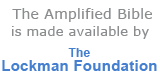 Bible Gateway Recommends
Battlefield of the Mind Bible: Renew Your Mind Through the Power of God's Word, Imitation Leather, pink
Retail: $79.99
Our Price: $53.99
Save: $26.00 (33%)
Everyday Life Bible: The Power of God's Word for Everyday Living--soft leather-look, teal
Retail: $79.99
Our Price: $54.99
Save: $25.00 (31%)
Amplified Thinline Holy Bible--bonded leather, burgundy
Retail: $49.99
Our Price: $29.99
Save: $20.00 (40%)
Amplified Thinline Holy Bible--bonded leather, black
Retail: $49.99
Our Price: $21.99
Save: $28.00 (56%)
Classic Comparative Side-by-Side Bible (NIV, KJV, NASB, Amplified) , Bonded Leather
Retail: $89.99
Our Price: $52.99
Save: $37.00 (41%)
KJV and Amplified Parallel Bible, Large Print, Leathersoft, Camel/rich red
Retail: $79.99
Our Price: $46.79
Save: $33.20 (42%)