---
Amplified Bible, Classic Edition
11 But when the crowds learned of it, [they] followed Him; and He welcomed them and talked to them about the kingdom of God, and healed those who needed restoration to health.
12 Now the day began to decline, and the Twelve came and said to Him, Dismiss the crowds and send them away, so that they may go to the neighboring hamlets and villages and the surrounding country and find lodging and get a [a]supply of provisions, for we are here in an uninhabited (barren, solitary) place.
13 But He said to them, You [yourselves] give them [food] to eat. They said, We have no more than five loaves and two fish—unless we are to go and buy food for all this crowd,(A)
Read full chapter
Footnotes
Luke 9:12 Marvin Vincent, Word Studies.
Amplified Bible, Classic Edition (AMPC)
Copyright © 1954, 1958, 1962, 1964, 1965, 1987 by The Lockman Foundation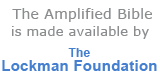 Bible Gateway Recommends
Everyday Life Bible: The Power Of God's Word For Everyday Living, Imitation Leather, pewter
Retail: $79.99
Our Price: $53.99
Save: $26.00 (33%)
Amplified & NKJV Parallel Bible Bonded Leather, Black, Large Print
Retail: $69.95
Our Price: $39.99
Save: $29.96 (43%)
KJV and Amplified Parallel Bible, Large Print, Bonded Leather, Black
Retail: $79.99
Our Price: $48.49
Save: $31.50 (39%)
Classic Comparative Side-by-Side Bible (NIV, KJV, NASB, Amplified) , Bonded Leather
Retail: $89.99
Our Price: $57.99
Save: $32.00 (36%)
Battlefield of the Mind Psalms and Proverbs - eBook
Our Price: $9.99
The Amplified Topical Reference Bible, Hardcover
Retail: $39.99
Our Price: $17.99
Save: $22.00 (55%)