---
Amplified Bible, Classic Edition
24 So some of those [who were] with us went to the tomb and they found it just as the women had said, but Him they did not see.
25 And [Jesus] said to them, O foolish ones [sluggish in mind, dull of perception] and slow of heart to believe (adhere to and trust in and rely on) everything that the prophets have spoken!
26 Was it not necessary and [a]essentially fitting that the Christ (the Messiah) should suffer all these things before entering into His glory (His majesty and splendor)?
Read full chapter
Amplified Bible, Classic Edition (AMPC)
Copyright © 1954, 1958, 1962, 1964, 1965, 1987 by The Lockman Foundation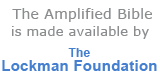 Bible Gateway Recommends
Classic Comparative Side-by-Side Bible
Retail: $99.99
Our Price: $64.99
Save: $35.00 (35%)
KJV and Amplified Parallel Bible, Large Print, Leathersoft, Camel/rich red
Retail: $79.99
Our Price: $43.99
Save: $36.00 (45%)
Amplified Bible, Battlefield Of The Mind Bible, Imitation Leather, Blue
Retail: $79.99
Our Price: $53.99
Save: $26.00 (33%)
Everyday Life Bible: The Power Of God's Word For Everyday Living, Imitation Leather, pink
Retail: $79.99
Our Price: $46.49
Save: $33.50 (42%)
Amplified Reading Bible, Imitation Leather, Brown
Retail: $49.99
Our Price: $29.99
Save: $20.00 (40%)
New Everyday Life Bible: The Power Of God's Word For Everyday Living
Retail: $29.99
Our Price: $19.99
Save: $10.00 (33%)