---
Amplified Bible, Classic Edition
52 Then Jesus said to those who had come out against Him—the chief priests and captains of the temple and elders [of the Sanhedrin]—Have you come out with swords and clubs as [you would] against a robber?
53 When I was with you day after day in the temple [[a]enclosure], you did not stretch forth [your] hands against Me. But this is your hour—and the power [which] darkness [gives you has its way].
54 Then they seized Him and led Him away, bringing Him into the house of the high priest. Peter was following at a distance.
Read full chapter
Footnotes
Luke 22:53 Richard Trench, Synonyms of the New Testament.
Amplified Bible, Classic Edition (AMPC)
Copyright © 1954, 1958, 1962, 1964, 1965, 1987 by The Lockman Foundation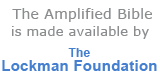 Bible Gateway Recommends
The Amplified Topical Reference Bible, Hardcover
Retail: $39.99
Our Price: $17.99
Save: $22.00 (55%)
La Biblia De La Vida Diaria, NVI: El poder de la Palabra de Dios para el diario vivir Everyday Life Bib,
Retail: $39.99
Our Price: $27.99
Save: $12.00 (30%)
KJV and Amplified Parallel Bible, Large Print, Leathersoft, Camel/rich red
Retail: $79.99
Our Price: $46.79
Save: $33.20 (42%)
Amplified Study Bible--soft leather-look, purple (indexed)
Retail: $79.99
Our Price: $42.99
Save: $37.00 (46%)
Amplified & NKJV Parallel Bible Bonded Leather, Black, Large Print
Retail: $69.95
Our Price: $39.99
Save: $29.96 (43%)
Amplified Compact Holy Bible--soft leather-look, camel/burgundy
Retail: $34.99
Our Price: $20.99
Save: $14.00 (40%)