---
Amplified Bible, Classic Edition
41 And it occurred that when Elizabeth heard Mary's greeting, the baby leaped in her womb, and Elizabeth was filled with and controlled by the Holy Spirit.
42 And she cried out with a loud cry, and then exclaimed, Blessed (favored of God) above all other women are you! And blessed (favored of God) is the Fruit of your womb!
43 And how [have I deserved that this honor should] be granted to me, that the mother of my Lord should come to me?
Read full chapter
Amplified Bible, Classic Edition (AMPC)
Copyright © 1954, 1958, 1962, 1964, 1965, 1987 by The Lockman Foundation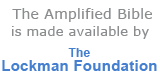 Bible Gateway Recommends
Classic Comparative Side-by-Side Bible (NIV, KJV, NASB, Amplified) , Bonded Leather
Retail: $89.99
Our Price: $57.99
Save: $32.00 (36%)
New Everyday Life Bible: The Power Of God's Word For Everyday Living - Slightly Imperfect
Retail: $29.99
Our Price: $15.29
Save: $14.70 (49%)
KJV and Amplified Parallel Bible, Large Print, Bonded Leather, Black
Retail: $79.99
Our Price: $47.99
Save: $32.00 (40%)
Amplified Large-Print Bible--bonded leather, burgundy
Retail: $69.99
Our Price: $45.99
Save: $24.00 (34%)
Everyday Life Bible: The Power Of God's Word For Everyday Living, Imitation Leather, pewter
Retail: $79.99
Our Price: $53.99
Save: $26.00 (33%)
Amplified Study Bible, Large Print, Imitation Leather, Brown
Retail: $69.99
Our Price: $43.49
Save: $26.50 (38%)