---
Amplified Bible, Classic Edition
34 And Mary said to the angel, How can this be, since I have no [intimacy with any man as a] husband?
35 Then the angel said to her, The Holy Spirit will come upon you, and the power of the Most High will overshadow you [like a shining cloud]; and so the holy (pure, sinless) Thing (Offspring) which shall be born of you will be called the Son of God.(A)
36 And listen! Your relative Elizabeth in her old age has also conceived a son, and this is now the sixth month with her who was called barren.
Read full chapter
Amplified Bible, Classic Edition (AMPC)
Copyright © 1954, 1958, 1962, 1964, 1965, 1987 by The Lockman Foundation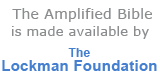 Bible Gateway Recommends
Everyday Life Bible: The Power Of God's Word For Everyday Living, Imitation Leather, pewter
Retail: $79.99
Our Price: $53.99
Save: $26.00 (33%)
The Amplified Topical Reference Bible, Hardcover
Retail: $39.99
Our Price: $17.99
Save: $22.00 (55%)
Amplified Study Bible--soft leather-look, purple (indexed)
Retail: $79.99
Our Price: $42.99
Save: $37.00 (46%)
KJV and Amplified Parallel Bible, Large Print, Leathersoft, Camel/rich red
Retail: $79.99
Our Price: $46.79
Save: $33.20 (42%)
Classic Comparative Side-by-Side Bible (NIV, KJV, NASB, Amplified) , Bonded Leather
Retail: $89.99
Our Price: $52.99
Save: $37.00 (41%)
Battlefield of the Mind Bible: Renew Your Mind Through the Power of God's Word, Imitation Leather, pink
Retail: $79.99
Our Price: $53.99
Save: $26.00 (33%)