---
Amplified Bible, Classic Edition
4 And they gave him seventy pieces of silver out of the house of Baal-berith, with which Abimelech hired worthless and foolhardy men who followed him.
5 And he went to his father's house at Ophrah and slew his brothers the sons of Jerubbaal, seventy men, on one stone. But Jotham, the youngest son of Jerubbaal, was left, for he hid himself.
6 And all the men of Shechem gathered together and all of Beth-millo, and they went and made Abimelech king by the oak (terebinth) of the pillar at Shechem.
Read full chapter
Amplified Bible, Classic Edition (AMPC)
Copyright © 1954, 1958, 1962, 1964, 1965, 1987 by The Lockman Foundation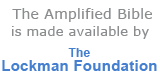 Bible Gateway Recommends
KJV and Amplified Parallel Bible, Large Print, Leathersoft, Camel/rich red
Retail: $79.99
Our Price: $43.99
Save: $36.00 (45%)
Battlefield of the Mind Bible: Renew Your Mind Through the Power of God's Word, Imitation Leather, pink
Retail: $79.99
Our Price: $53.99
Save: $26.00 (33%)
Amplified Large-Print Bible--bonded leather, burgundy
Retail: $69.99
Our Price: $41.49
Save: $28.50 (41%)
Amplified & NKJV Parallel Bible Bonded Leather, Black, Large Print
Retail: $69.95
Our Price: $39.79
Save: $30.16 (43%)
Amplified Bible, Battlefield Of The Mind Bible, Imitation Leather, Blue
Retail: $79.99
Our Price: $53.99
Save: $26.00 (33%)
Amplified Thinline Holy Bible--bonded leather, burgundy
Retail: $49.99
Our Price: $29.99
Save: $20.00 (40%)