---
Amplified Bible, Classic Edition
27 Only the livestock and the spoil of that city Israel took as booty for themselves, according to the word of the Lord which He commanded Joshua.
28 So Joshua burned Ai and made it a heap of ruins for ever, even a desolation to this day.
29 And he hanged the king of Ai on a tree until evening; and at sunset, Joshua commanded and they took the body down from the tree and cast it at the entrance of the city gate and raised a great heap of stones over it that is there to this day.
Read full chapter
Amplified Bible, Classic Edition (AMPC)
Copyright © 1954, 1958, 1962, 1964, 1965, 1987 by The Lockman Foundation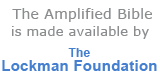 Bible Gateway Recommends
Classic Comparative Side-by-Side Bible (NIV, KJV, NASB, Amplified) , Bonded Leather
Retail: $89.99
Our Price: $57.99
Save: $32.00 (36%)
New Everyday Life Bible: The Power Of God's Word For Everyday Living - Slightly Imperfect
Retail: $29.99
Our Price: $15.29
Save: $14.70 (49%)
Amplified Large-Print Bible, hardcover
Retail: $34.99
Our Price: $22.99
Save: $12.00 (34%)
Amplified Study Bible, Large Print, Imitation Leather, Brown
Retail: $69.99
Our Price: $43.49
Save: $26.50 (38%)
Amplified Study Bible--soft leather-look, purple (indexed)
Retail: $79.99
Our Price: $52.99
Save: $27.00 (34%)
Everyday Life Bible: The Power of God's Word for Everyday Living--soft leather-look, blush
Retail: $79.99
Our Price: $54.99
Save: $25.00 (31%)