---
Amplified Bible, Classic Edition
9 Nicodemus answered by asking, How can all this be possible?
10 Jesus replied, Are you the teacher of Israel, and yet do not know nor understand these things? [Are they strange to you?]
11 I assure you, most solemnly I tell you, We speak only of what we know [we know absolutely what we are talking about]; we have actually seen what we are testifying to [we were eyewitnesses of it]. And still you do not receive our testimony [you reject and refuse our evidence—that of Myself and of all those who are born of the Spirit].
Read full chapter
Amplified Bible, Classic Edition (AMPC)
Copyright © 1954, 1958, 1962, 1964, 1965, 1987 by The Lockman Foundation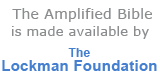 Bible Gateway Recommends
The Amplified Topical Reference Bible, Hardcover
Retail: $39.99
Our Price: $17.99
Save: $22.00 (55%)
Amplified & NKJV Parallel Bible Bonded Leather, Black, Large Print - Imperfectly Imprinted Bibles
Retail: $69.95
Our Price: $31.99
Save: $37.96 (54%)
Classic Comparative Side-by-Side Bible (NIV, KJV, NASB, Amplified) , Bonded Leather
Retail: $89.99
Our Price: $57.99
Save: $32.00 (36%)
Amplified Study Bible, Hardcover
Retail: $44.99
Our Price: $27.49
Save: $17.50 (39%)
Battlefield of the Mind Bible: Renew Your Mind Through the Power of God's Word, Imitation Leather, pink
Retail: $79.99
Our Price: $53.99
Save: $26.00 (33%)
Amplified Large-Print Bible, hardcover
Retail: $34.99
Our Price: $22.99
Save: $12.00 (34%)