---
Amplified Bible, Classic Edition
26 So they came to John and reported to him, Rabbi, the Man Who was with you on the other side of the Jordan [[a]at the Jordan crossing]—and to Whom you yourself have borne testimony—notice, here He is baptizing too, and everybody is flocking to Him!
27 John answered, A man can receive nothing [he can claim nothing, he can [b]take unto himself nothing] except as it has been granted to him from heaven. [A man must be content to receive the gift which is given him from heaven; there is no other source.]
28 You yourselves are my witnesses [you personally bear me out] that I stated, I am not the Christ (the Anointed One, the Messiah), but I have [only] been sent before Him [in advance of Him, to be His appointed forerunner, His messenger, His announcer].(A)
Read full chapter
Footnotes
John 3:26 George M. Lamsa, The New Testament.
John 3:27 Joseph Thayer, A Greek-English Lexicon of the New Testament.
Amplified Bible, Classic Edition (AMPC)
Copyright © 1954, 1958, 1962, 1964, 1965, 1987 by The Lockman Foundation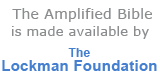 Bible Gateway Recommends
Battlefield of the Mind New Testament--soft leather-look, arcadia blue
Retail: $24.99
Our Price: $17.49
Save: $7.50 (30%)
The Everyday Life Bible, Bonded Leather Bold Pink with Espresso Inset
Retail: $65.00
Our Price: $38.49
Save: $26.51 (41%)
Everyday Life Bible: The Power Of God's Word For Everyday Living, Imitation Leather, pewter
Retail: $79.99
Our Price: $53.99
Save: $26.00 (33%)
NKJV Amplified Parallel Large-Print Bible Flexisoft, Blue/Brown
Retail: $79.95
Our Price: $46.99
Save: $32.96 (41%)
Amplified Reading Bible, Imitation Leather, Brown
Retail: $49.99
Our Price: $29.99
Save: $20.00 (40%)
KJV and Amplified Parallel Bible, Large Print, Leathersoft, Camel/rich red
Retail: $79.99
Our Price: $43.49
Save: $36.50 (46%)