---
40 Jesus said to her, "Didn't I tell you that you would see God's glory if you believed?" 41 They took the stone away. Jesus looked up and said, "I thank you, Father, that you listen to me. 42 I know that you always listen to me, but I say this for the sake of the people here, so that they will believe that you sent me."
Read full chapter
New International Version
40 Then Jesus said, "Did I not tell you that if you believe,(A) you will see the glory of God?"(B)
41 So they took away the stone. Then Jesus looked up(C) and said, "Father,(D) I thank you that you have heard me. 42 I knew that you always hear me, but I said this for the benefit of the people standing here,(E) that they may believe that you sent me."(F)
Read full chapter
40 Jesus saith unto her, Said I not unto thee, that, if thou wouldest believe, thou shouldest see the glory of God?
41 Then they took away the stone from the place where the dead was laid. And Jesus lifted up his eyes, and said, Father, I thank thee that thou hast heard me.
42 And I knew that thou hearest me always: but because of the people which stand by I said it, that they may believe that thou hast sent me.
Read full chapter
Good News Translation (GNT)
Copyright © 1992 by American Bible Society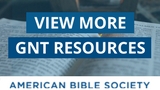 New International Version (NIV)
Holy Bible, New International Version®, NIV® Copyright ©1973, 1978, 1984, 2011 by Biblica, Inc.® Used by permission. All rights reserved worldwide.
NIV Reverse Interlinear Bible: English to Hebrew and English to Greek. Copyright © 2019 by Zondervan.