---
Amplified Bible, Classic Edition
28 Now be pleased to look upon me, that it may be evident to you if I lie [for surely I would not lie to your face].
29 Return [from your suspicion], I pray you, let there be no injustice; yes, return again [to confidence in me], my vindication is in it.
30 Is there wrong on my tongue? Cannot my taste discern what is destructive?
Read full chapter
Amplified Bible, Classic Edition (AMPC)
Copyright © 1954, 1958, 1962, 1964, 1965, 1987 by The Lockman Foundation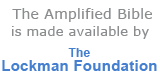 Bible Gateway Recommends
Amplified Reading Bible, Imitation Leather, Brown
Retail: $49.99
Our Price: $29.99
Save: $20.00 (40%)
Amplified & NKJV Parallel Bible Bonded Leather, Black, Large Print
Retail: $69.95
Our Price: $39.79
Save: $30.16 (43%)
Amplified Study Bible, Large Print, Imitation Leather, Brown
Retail: $69.99
Our Price: $41.99
Save: $28.00 (40%)
Amplified Thinline Holy Bible--bonded leather, burgundy
Retail: $49.99
Our Price: $29.99
Save: $20.00 (40%)
Amplified Outreach Bible, Paperback
Retail: $6.99
Our Price: $3.99
Save: $3.00 (43%)
Amplified Holy Bible--bonded leather, burgundy (indexed)
Retail: $59.99
Our Price: $35.99
Save: $24.00 (40%)