---
23 I know you are taking me off to my death,
to the fate in store for everyone.
24 Why do you attack a ruined man,
one who can do nothing but beg for pity?[a]
25 Didn't I weep with people in trouble
and feel sorry for those in need?
Read full chapter
Footnotes
Job 30:24 Verse 24 in Hebrew is unclear.
New International Version
23 For I know that thou wilt bring me to death, and to the house appointed for all living.
24 Howbeit he will not stretch out his hand to the grave, though they cry in his destruction.
25 Did not I weep for him that was in trouble? was not my soul grieved for the poor?
Read full chapter
Good News Translation (GNT)
Copyright © 1992 by American Bible Society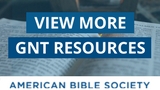 New International Version (NIV)
Copyright © 1973, 1978, 1984, 2011 by Biblica
NIV Reverse Interlinear Bible: English to Hebrew and English to Greek. Copyright © 2019 by Zondervan.