---
Amplified Bible, Classic Edition
13 Oh, that You would hide me in Sheol (the unseen state), that You would conceal me until Your wrath is past, that You would set a definite time and then remember me earnestly [and imprint me on your heart]!
14 If a man dies, shall he live again? All the days of my warfare and service I will wait, till my change and release shall come.(A)
15 [Then] You would call and I would answer You; You would yearn for [me] the work of Your hands.
Read full chapter
Amplified Bible, Classic Edition (AMPC)
Copyright © 1954, 1958, 1962, 1964, 1965, 1987 by The Lockman Foundation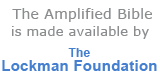 Bible Gateway Recommends
Classic Comparative Side-by-Side Bible (NIV, KJV, NASB, Amplified)
Retail: $54.99
Our Price: $35.99
Save: $19.00 (35%)
Amplified Study Bible--soft leather-look, purple (indexed)
Retail: $79.99
Our Price: $42.99
Save: $37.00 (46%)
The Amplified Study Bible, eBook - eBook
Our Price: $14.99
Battlefield of the Mind Bible: Renew Your Mind Through the Power of God's Word, Imitation Leather, brown
Retail: $79.99
Our Price: $53.99
Save: $26.00 (33%)
Everyday Life Bible: The Power Of God's Word For Everyday Living, Imitation Leather, pink
Retail: $79.99
Our Price: $46.49
Save: $33.50 (42%)
La Biblia de la Vida Diaria, Enc. Dura (Everyday Life Bible, Hardcover)
Retail: $39.99
Our Price: $27.99
Save: $12.00 (30%)