---
Amplified Bible, Classic Edition
17 They cried there, Pharaoh king of Egypt is destroyed and is only a noise; he has let the appointed time [in which God had him on probation] pass by!
18 As I live, says the King, Whose name is the Lord of hosts, surely like Tabor among the mountains and like Carmel by the sea, so shall he [the king of Babylon, standing out above other rulers] come.
19 O you daughter who dwells in Egypt and you who dwell with her, furnish yourselves [with all you will need] to go into exile, for Memphis will be waste, desolate, and burned up, without inhabitant.
Read full chapter
Amplified Bible, Classic Edition (AMPC)
Copyright © 1954, 1958, 1962, 1964, 1965, 1987 by The Lockman Foundation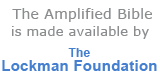 Bible Gateway Recommends
Battlefield of the Mind Bible: Renew Your Mind Through the Power of God's Word
Retail: $29.99
Our Price: $19.99
Save: $10.00 (33%)
Amplified Study Bible, Hardcover
Retail: $44.99
Our Price: $25.49
Save: $19.50 (43%)
KJV and Amplified Parallel Bible, Large Print, Leathersoft, Camel/rich red
Retail: $79.99
Our Price: $43.99
Save: $36.00 (45%)
Battlefield of the Mind Bible: Renew Your Mind Through the Power of God's Word, Imitation Leather, pink
Retail: $79.99
Our Price: $53.99
Save: $26.00 (33%)
Amplified Study Bible, Large Print, Imitation Leather, Brown
Retail: $69.99
Our Price: $41.99
Save: $28.00 (40%)
Amplified Study Bible--soft leather-look, purple
Retail: $69.99
Our Price: $35.99
Save: $34.00 (49%)